Community Information & Rules
Buck Island is a private community with all properties owned by individuals.  Some properties are full time residence, some second homes, some are rental properties, and some a combination.  The one thing in common amongst the properties is a person or family owns the home, is a member of the Buck Island community, and has a vested interest in assuring our community is, and continues to be a safe, attractive, and desirable.  To this end we request all visitors familiarize themselves and abide by these simple rules during your stay.
Community and Amenity Access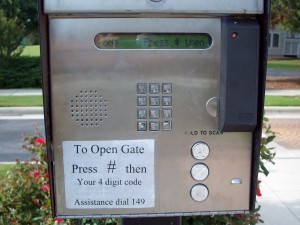 Buck Island is a gated community with a control pad for visitor access.  Homeowners have access with a key card or remote clicker, but all others must enter an access code to enter.  Pulling into the left lane and up to the guard house, you will find the gate control panel (shown at left).  As a visitor, you should have been provided a code to enter for operation of the gate.  This is a 4 digit code that works for a period of time, typically the week of your stay.
Enter the hash (#)  sign and then the 4 digit code.  Be certain to not hesitate between the hash and the first number of the code.  Hesitation will reset the entry and your code will not take.  It may take a couple tries at first, but it does work and after your first success you will find it is easy to use.
The gate exists to improve safety in the community and restrict the use of the community amenities to our homeowners and guests.  The pool area, tennis courts and rest rooms also have access codes for the same purpose.  Please use the following simple rules with regard to access codes:
1.  Do not share access codes with anyone outside your party.
2.  Drive through the entry gate ONE CAR AT A  TIME.
3.  Do not attempt to gain entry around the gate by driving over curbs, through grass, landscaping or parking lots.
4.  If you see obvious access infractions (parking at Food lion and hoping gate into the pool, for instance) do not confront the party but take the information to the Office to call Signature Touch Property Management (252) 441-8857.
NOTE:  The gate is monitored physically and electronically for damage to the gate and surrounding area.  We will seek damages from those that cause it. 
Olympic-Sized Community Swimming Pool
The community pool will be open from 9:00am – 7:00pm: Daily
Saturday May 8TH – Saturday October 10th, 2021
The pool area includes; Olympic-sized pool with lap lanes and wading area, kiddy pool, hot tub, lounge chairs,
shaded tables and restrooms.
NOTE: The community pool does not have a lifeguard on duty. Small children must be accompanied by
an adult at all times. Glass and Pets are prohibited in the pool area at all times.
*The Pool Code is ####
Tennis Courts, Basketball Courts & Playground
There are two tennis courts, a half court basketball court and a playground that are always available for your
enjoyment. Adult supervision is required.
*The Tennis Court Code is ####
Beach Facilities
The community beach access is located at the east end of Orion's Way just beyond the Beach Cabana. The
lighted beach walkway is available for your enjoyment at anytime. The Beach Cabana has restrooms and
showers exclusively for Buck Island owners and guests to use at their convenience. Parking is located in the lot
to the south of the Beach Cabana.
NOTE: Please refrain from using the PRIVATE OCEAN WALKWAYS. Use of these walkways is
exclusively for our ocean front owners and their guests only.
*The Cabana Code is ####
Golf Carts
Please follow normal traffic safety rules and regulations at all times. These are rules that apply to the use of
these golf carts in the community. Drivers must have a valid driver's license and/or be over the age of 16.
Liability insurance is required and can be obtained from cart rental companies our consult your insurance
agent.
NOTE: Golf carts are not permitted on sidewalks or beach walkways.
Just For The Beach Rentals
Just For The Beach Rentals is available for all Buck Island owners and guests from Memorial Day to Labor Day.
Commercial-grade, high quality beach chair and umbrella rental equipment is available to rent for the day or the
week. We set it up for you by 9:00am and take it down at 5:00pm each day! We also rent boogie boards, corn
hole sets, stand-up paddle boards, kayaks, and surf boards! Rental arrangements may be done in advance by
contacting us at 866-OBX-RENT or you can reserve them at the Cabana when you get here! We can also deliver
bikes, strollers, grills, lines, etc… right to your rental cottage. Visit our website at www.justforthebeach.com for
more information and to see all our services.
Currituck County Code of Ordinance Sec. 10-128. Unattended Property on Beach Ordinance: It shall be
unlawful for any person to leave between the hours of sunset and sunrise any property, including but not limited
to volleyball, badminton and tennis sets, poles, tents, horseshoe stakes, croquet courses, grills, umbrellas and
recreational equipment, cabanas, canopies, or any other personal property items on the beach.
NOTE: DO not leave beach items on the ocean front overnight! They will be removed without notice.
Bonfires
No open fires are allowed anywhere in Buck Island or on the beach.
Fireworks
Currituck County Code of Ordinance Sec. 9-4. – Manufacture, Sale and Use of Pyrotechnics Prohibited
Ordinance: (d) For the proper construction of the provisions of this section, "pyrotechnics," as is herein used,
shall be deemed to be and include any and all kinds of fireworks and explosives including explosive caps, snake
and glow worms, smoke devices, noise makers such as party poppers and string poppers and sparkling devices.
(e) The violation of this article shall be a misdemeanor and upon conviction shall be punishable by a fine not
more than $500.00 or by imprisonment for not more than 30 days.
The use of fireworks is strictly prohibited on the entire Outer Banks!
Pets
Currituck County Code of Ordinance Sec. 3-201. Currituck Dog Restraint Ordinance: Within the County of
Currituck, no owner or keeper of any dog shall permit such dog to run at large.
Dogs must be on a leash at all times including on the beach and throughout the development.
Buck Island is a "Poop-Scoop" community. Please pick up after your pet!
Trash Pickup Services
A roll-in/roll-out service is provided for all homes in Buck Island. Only trash in containers will be picked up.
Trash and recycle is picked up on Mondays and Fridays in season and on Mondays only in the off season. Cans
will be rolled out to the curbside on Sunday and Thursday evenings and rolled back in on Monday and Friday
mornings. Please ensure adequate access to the trash cans.
Monteray Plaza & Tim Buck II Shopping Centers
Please use the paved access walkway at the end of W. Meeting Street in the Charleston Place section for your
trips to Monteray Plaza. The use of shopping carts to haul groceries home from Food Lion at Monteray
Plaza is allowed only if the shopping cart is returned immediately to the Food Lion store.
Parking
Parking at Buck Island is limited. Guests are encouraged to use the garages, carports and driveways that are
associated with your rental property. Limited overflow parking is available at the pool parking lot, the beach
parking lot and the two gravel lots in Charleston Place. RV and boat parking is prohibited throughout Buck
Island. Parking on the street or on the grass is prohibited at all times. Violating these rules may result in
towing of the vehicle at the vehicle owners expense.




Vacation Homes for Rent
Many of the Buck Island homeowners make their properties available for rent.  Click above for a map of the community and links to rental homes.